Your Content Should Work Harder—Not You! It's Time to Get More Mileage from Your Killer Content!
Stop working so much over your content marketing and start squeezing more out of every piece of content you create!
If there's one thing that's true for all online entrepreneurs—especially coaches and content creators—it's this: Content is king.
And queen. And knights, jesters and peasants, too.
Content is the backbone of any online marketing strategy.
Basically, it's everything.
Unfortunately, creating content can be a painstaking process. It can take hours (or days!) to string together a decent (let alone fantastic and audience-worthy) blog post, email series or webinar.

Worse, once we create our "brilliant" blog post or wow-inducing webinar, it often dies a slow, silent death right after.

Meaning? We put it out there once, excitedly, unabashedly, proudly—and never do anything with it ever again.

Even our best, most well-thought-out content gets treated like an old prom dress. We love it all up for one big, glamorous night, and then toss it into the back of our closets never to be seen again.

And then? We get right back to the content creation grind. And then the cycle starts again.
Unfortunately, all of this means that eventually–no matter how much we love what we do and the content we create—the whole process starts to become a bore—and a chore.

It starts to feel like "just another task" to check off our list.

We feel like we're fresh out of fresh ideas. 
We wrack our brains—and nothing.
We feel like we've already said the same thing a million times before. 
And frankly, we start to feel like maybe the whole "creating content" thing is just a big waste of time, money and energy. (Although truthfully we know it's not—since it does work when we work it.)
Sound oh-too-true?
Don't worry, we've all been there!

But there IS another way to "do" content.
A Piece of Content with One Purpose Now, Can Have Another Purpose Later!
If you're here, you're a super smart, super savvy entrepreneur. Which means you've probably heard of content repurposing before.
But if you're still reading this page, I'm going to stick my neck out and guess you aren't actually doing it yet.
Oops.
No matter what your reason:
You "don't have enough content." (Trust me, you have way more than enough!)
You "don't have the time."
Or you "just don't feel like it." (That's a legitimate excuse for pretty much anything, right?)
The truth is, you just can't #entrepreneur without content.
And that's where I come in.
I've created a simple solution to your content repurposing woes, so you can wow your readers with your best content over and over again.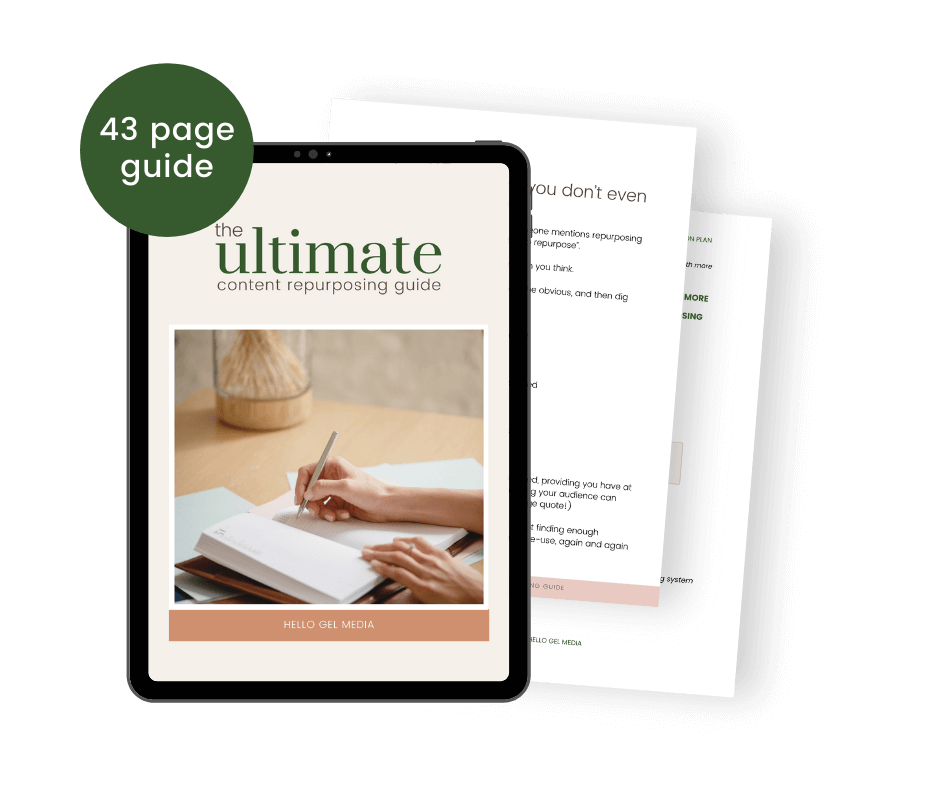 The Ultimate Content Repurposing Guide
It's time to learn how to squeeze every drop of goodness out of all the amazing content you create—and quit letting all your hard work go to waste! 
THIS GUIDE IS FOR YOU IF WANT TO:
Here's what you're getting inside this 4 chapter guide…
Chapter One
Chapter 1: You Already Have Everything You Need (But First You Have to Find It)
Chapter 1 Is all about mining your own content for the hidden gems you've long forgotten about (or never actually finished). You'll learn all about how to get it organized so you can put this content to work for you right away.
Chapter 1 covers:
Why you need to go back to business basics before you repurpose a single word

and the top 3 things you MUST get crystal-clear about to rock your content repurposing.

What a "subniche" is

and why it's essential to know yours if you want to repurpose the "right" content.

How to find killer content you don't even remember creating

(it exists!)  and exactly what to do with all your abandoned content (To use it or not to use it-that IS the question, and we'll answer it!)

3 smart ways to evaluate your content and decide what makes the cut

and what gets left on the cutting room floor.

The LAST thing you ever want to do to people who buy from you

and how to avoid it.

How to identify how your ideal customer thinks and learns

and exactly why this matters so much.

Why you shouldn't just dump your content that didn't get a ton of engagement

and what to do with it instead.

The ONE simple thing you can do differently with your content

plus surprising ways to go the extra mile with your content to ensure your readers keep coming back for more.

How to find and organize your content without driving yourself crazy!
You know the phrase "Everything old is new again"? This chapter will show you how true that statement is, and why that's actually amazing news for your content repurposing efforts.
Chapter Two
Chapter Three
Chapter Four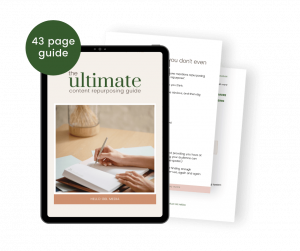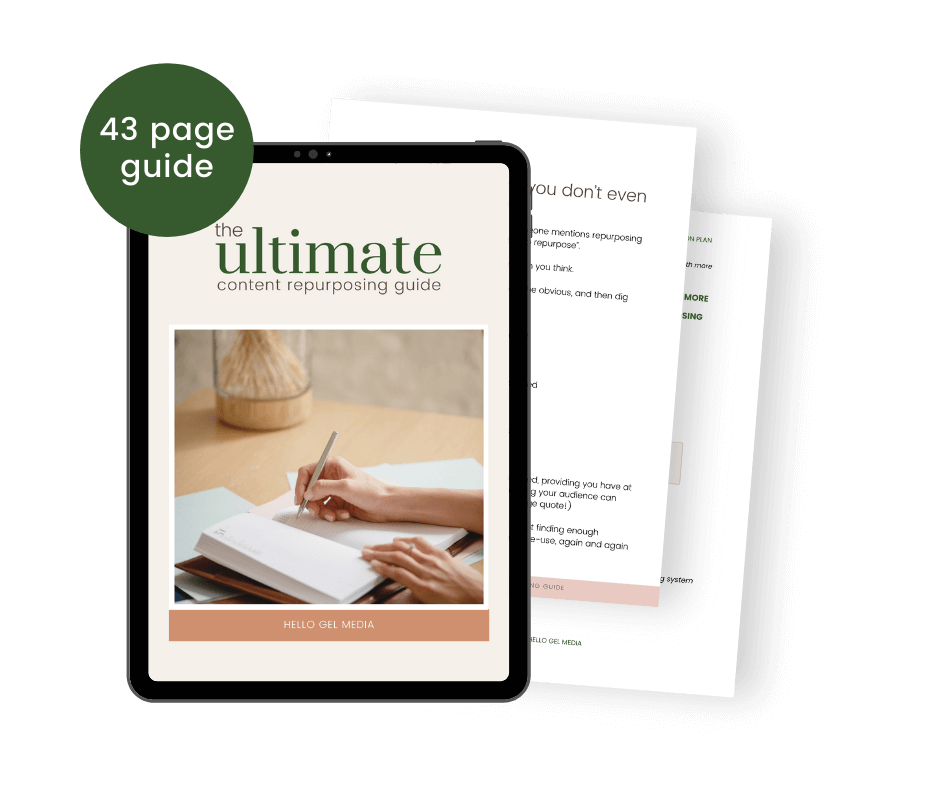 Repurposing the Content You Already Have is the Easiest Way to Get More—and Create Less!
Seriously, just imagine this…
What my clients are saying
"Gel is such a delight to work with. Her passion and personality come through with her love of all things social media and online marketing. From Blogs, Facebook, Youtube, Pinterest and Instagram."
I'm a Content Manager/VA and I'm passionate about getting your content seen across multiple platforms and this might be because I am a creative entrepreneur myself.
I enjoy turning your main piece of content to multiple ones so you don't have to come up with content every single time. (I know how exhausting that is!)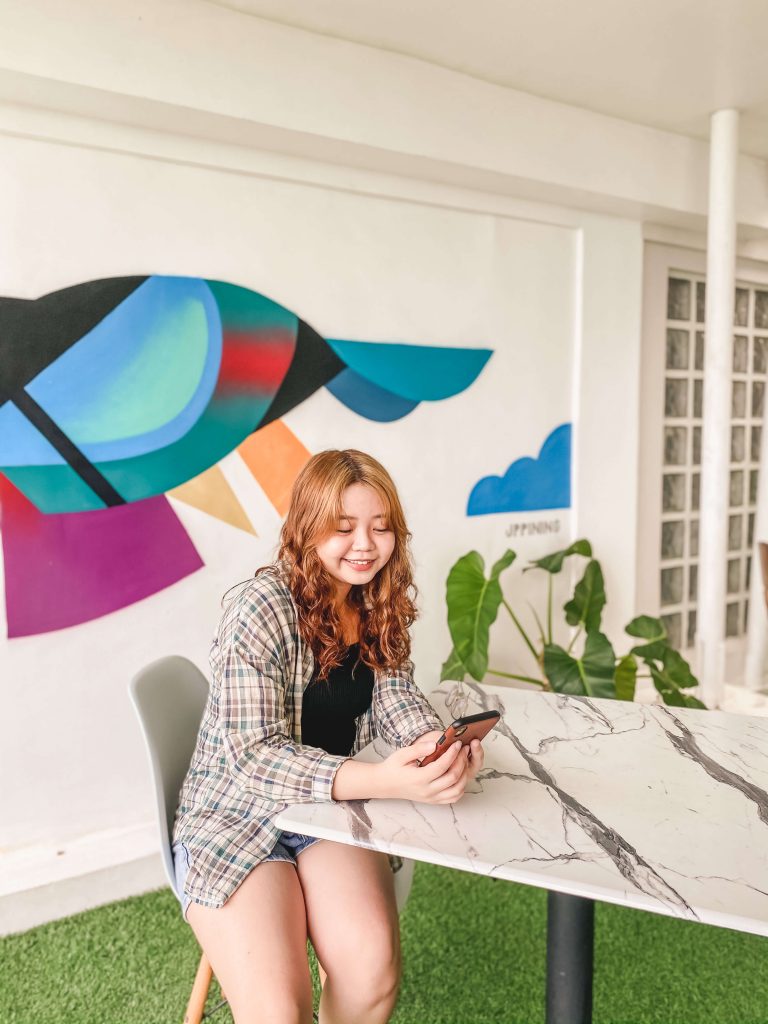 What my clients are saying
"It was such a pleasure to work with Gel, she really helped me to alleviate some stress in creating content for my social media channels."
Sure, you could continue to work over your content creation to the point of hand cramps and backaches (been there!)

Or, you—or your team—could start repurposing all the incredible content you already have at your fingertips, and reaping major rewards.

The choice is yours.
Ready to get the most out of your content?
Before the price goes back to 77 USD