This page contains affiliate links, and I may earn a small commission if you use these links to buy something at no additional cost to you.
If you aren't using your podcast content for more than the week it goes live, you're really missing out. We spend so much time on our podcast episodes that we really want to maximize our use of this amazing content. So in this post, I will share some examples of how we can repurpose and reuse all of the contents from your older podcast episodes. 
What is Podcast Content Repurposing?
First, I wanted to explain a little bit more about what content repurposing means. Content repurposing just means that we will find new ways to reuse the content that we've already created. 
Podcast episodes are terrific for having great content that is built to be repurposed. Why? 
First, it's already evergreen content that stays relevant and fresh even after months or even years of publishing it. Compared to social media posts, podcast episodes have a longer lifespan.
Second, podcast episodes can be repurposed in so many ways compared to other forms of content like blog posts. With blog posts, most of the time, you can only create social media posts and other written content. On the other hand, when you start repurposing with podcast episodes, you can turn them into blog posts, social media posts, and even audiograms (more on this below!). So you really get more mileage out of your existing podcast episodes.
The First Step: Break It Down
Let's start by breaking down each podcast episode into golden nuggets of wisdom or valuable info for your audience. To make it easy, you can use the timestamps that you might have already created for your podcast episode show notes.
We can then turn each timestamp or nugget into:
Audiograms for social media
You likely created an audiogram when each podcast episode was first published, but here's the beautiful thing about it—you can make new audiograms for older podcast episodes. You can turn an audio snippet into a video and share it across multiple social media channels and formats. 
You could reuse the same piece of audio to create an audiogram for an Instagram post, a Facebook post, a LinkedIn post, an Instagram reel, and an Instagram story. That is a lot of pieces of content from one tiny audio clip from one episode. 
Re-share on Pinterest with new pin designs
Another great way to add more love to older podcast episodes is to re-share that episode on Pinterest just by creating new pin designs using Canva. Pinterest loves fresh content, and that just means it has to be a new image. You can easily create a couple of new pin designs for each one of your older episodes to share. 
Create quote graphics for social media
The awesome thing about podcasts is that they are filled with so many great quotes. So go through your old episode transcripts, and let's start pulling some new quotes that you can add to quote graphics and share on social media. 
Write an email newsletter on each timestamp
Each timestamp in your show notes is essentially an important topic or piece of the podcast episode so let's make it a point to craft a new email newsletter for each of those timestamps. Doing this allows you to create and repurpose so many more pieces of content from each episode. 
Write a new blog post on each timestamp topic
And finally, similarly to above, we can also take each of those time stamps and create a new blog post that is more in-depth around each of those points or topics. If blogging is a big part of your content marketing strategy reusing your podcast information and content will be a huge time saver for creating and writing all of this content. To make this process easier, transcribe your podcast episode using a transcription app like Otter.
---

If you'd like to learn more or outsource some content repurposing, make sure to download my Service Guide below to learn more about how we can work together. I'd love to chat and see if we are a great fit and how we can start maximizing all of the awesome content you are creating with your podcast episodes. 
Download the Service Guide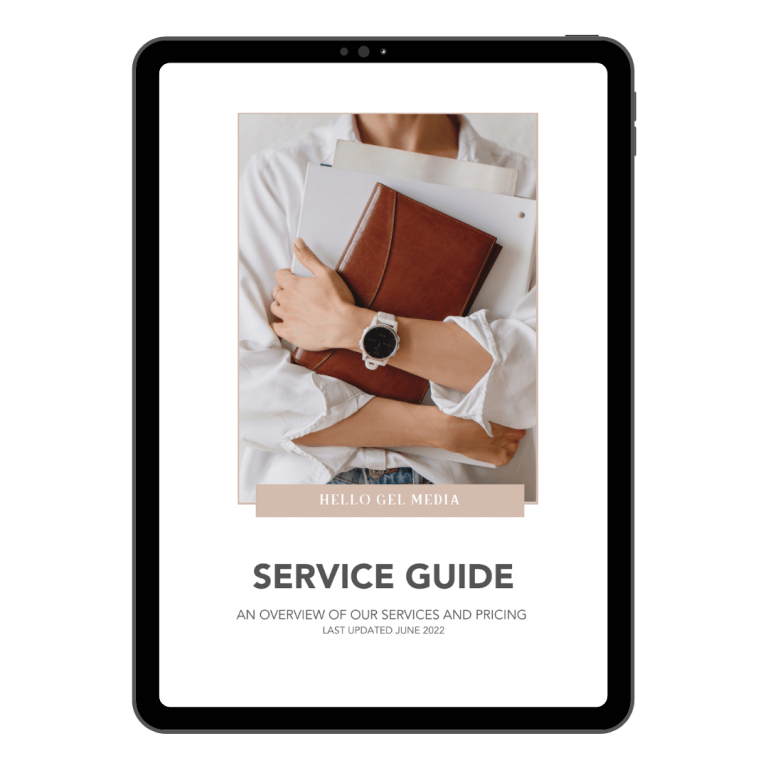 Need help with repurposing your content?
Hello Gel Media thrives on helping coaches and content creators repurpose their content into different formats and for different platforms.
Sign up below to get details on my services and pricing!